Community Facilitation Model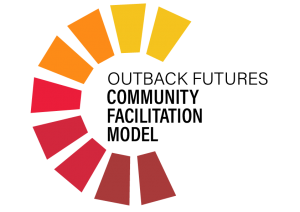 Outback Futures applies a long term, strategic approach to facilitate intergenerational change in the suicide prevention and mental health outcomes for remote communities. We seek to shift entrenched stigma around help-seeking by equipping rural and remote communities with the confidence and tools to identify and address their own mental health and wellbeing issues. Our Community Facilitation Model enables us to work with communities to identify their most significant challenges and co-design a response to address these. Our holistic developmental approach works to create genuine self-efficacy and intergenerational change where short-term solutions can't. 
Developed with the bush, for the bush, our Community Facilitation Model has four foundational tools:
Genuine Community Engagement
We only engage with communities when we are invited, seeking insight to the community's unique culture and needs. We are committed to establishing genuine relationships to encourage community ownership over positive change and growth. By working in partnership with communities, we make sure that what we're doing is truly community-driven. 
Multidisciplinary Clinics
Multidisciplinary clinical service is the most direct tool we use to drive transformation within communities. We tailor these clinics to meet the unique needs of each community. Using a fly-in-fly-out model allows us to retain experienced clinicians, creates a sense of safety and anonymity for clients, and allows for long-term consistency to specific communities.
Service disciplines include:
Psychology & Counselling

Occupational therapy
Speech & language pathology
Learning & literacy support
Stay With Me Video Connect
Stay With Me ensure clients receive consistent, professional support with trusted clinicians between face-to-face visits. We use a variety of platforms, including web-based technology and phones.
Critical Incident Response
Our Critical Incident Response service provides individuals, families and communities with access to immediate mental health support during crisis periods. The flexibility and responsiveness of the Outback Futures model enables community engagement and clinical teams to respond to crisis efficiently, our team often on the ground within 24 hours.
The Community Facilitation Model is the process we are using to achieve long-term, community-wide change. We do this by using three core foundational tools:
Genuine Community Engagement
Multidisciplinary Clinics
Stay With Me Video Connect
We also offer Critical Incident Response for situations requiring immediate mental health support.
By partnering with communities to identify and address its needs using these tools, we aim to achieve the following outcomes:
Wellbeing mobilisation
Confident voice
Public dialogue
Ultimately, we are working to leave a legacy in our partner communities of self-efficacy, empowerment and hope.
Care and Support with
Stay With Me